SCADAspire PLC MINI: A small solution to big problems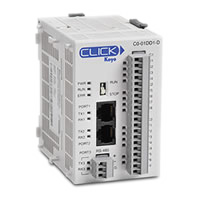 Designed to fill the needs of small to medium sized water and wastewater operations, our SCADAspire PLC MINI system features a feature rich and reliable controller and software to monitor and control remote site operations. Powered by the Koyo CLICK programmable controller, our platform adds many features not readily available to most districts.
Fully integrated into the system is a highly customized site intrusion and security system to provide detection and response to potential threats. Connect industry standard intrusion detection devices such as motion detectors (laser, infra-red (PIR)), limit switches (doors, windows, hatches) and many others. To help reduce potential damage, a response from sirens, lighting, camera systems or other warning devices can be activated.
Feature List
Protecting sensitive and costly equipment on your site with a dedicated security system can introduce additional monthly costs and equipment purchases. Integrating security into the controller allows for internal mitigation practices to prevent false-positives from reaching emergency service such as police or sheriff.

Connect industry standard motion, door and other intrusion detection devices such as passive-infrared (PIR), laser beam and limit switches. To help deter potential threats additional outputs can be triggered to start audible alerts, site lighting and video recording systems.

Providing access to operators and preventing false alarms is key to any security/intrusion detection system. While many districts have used keys based entry control for many years, they have also lost track of keys given to outside contractors or utility workers.

Using the optional HMI/OIT on-site, you system now has ID and PIN code entry with multi-level access. Provide your operators with dedicated access codes, while providing seperate codes for outside individuals. All entries (ID and Passwords) can be maintained locally or off-site on your primary HMI or SCADA system.

Accurate measurement of field values is vital to maintain reliable operation of your system. Integrating scaling of raw values to engineering units helps operates view current system states.

Connect multiple measurement devices including mA (0-20, 4-20mA), voltage (0-5, 0-10V) and temperature (RTD, THM) values.

Using any of the CLICK PLC controllers and additional discrete and analog addon cards, virtually any field device can be connected to your system. With the ability to add up to eight (8) additonal I/O cards, high-density systems can use the MINI.

Monitor pump and motor status, pressure switches and transducers and nearly any other industrial control device on the market.

You are here: SCADA & Telemetry > Programmable Logic Controllers (PLC) > PLC MINI