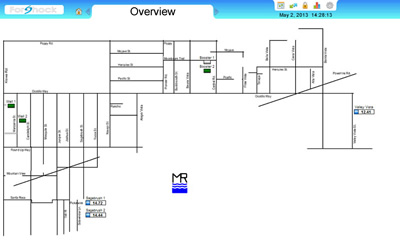 Overseeing your operations should be a reliable, customizable and easy to use system, that is where the SCADAspire HMI comes in. Powered by National Instruments' Lookout HMI software, our framework allows for rapid development and deployment of your water and wastewater control system.
Our framework empowers domestic water utilities with powerful and complete control, monitoring and reporting options. Customizable displays and an operator designed approach create a feature-rich, yet simple system for any and all installations. Integrated run-time reports, graphing and reporting options for historical and future forecasting.
SCADAspire HMI software is a licensed product available in multiple licensing models that fit any requirements, that can be installed on your own hardware. Click here for more information or contact us.
Pump and Motor Control
Tank and Reservoir Monitoring
Time-of-Use / Off-peak Pumping
Intrusion Detection and Security
Flowrates, Pressures, Voltages, etc.
Video & Security Integration
Reporting and Graphing/Trending
Operator Notification
Powered by NI Lookout HMI
Feature List
The ability to control and monitor your pump or motor should not be a linear, simple on-off system, but a full featured and automated control system. Integrating speed control, level monitoring and conditional monitoring to automatically control your pump for efficient, safe and reliable operation.

Powerful and easy to use features allow for creating optimal pumping schedules including by time, level, fire-flow/emergency situations and more. The ability to respond to potential safety or destructive events is the most important response any control system can provide anytime of the day.

Monitoring of your system health is critical to ensuring a safe and healthy water system. Logging usage and capacity of your tanks, reservoirs, lift stations and other storage vessels provides you with instant access to decision making information.

The ability to setup alarm and notification points in the event of rapid level change, high or low level and stagnant levels provide piece of mind and prevent potential property and equipment damage.

Notifying your operators to safety and security related events, we have integrated a fully capable site intrusion system to monitor your remote sites. Originally intended for the SCADAspire PLC security features, these panels can be used to monitor any type of notification device, regardless of manufacturer.

The ability to see your remote site, video surveillance can be integrated into your system in a simple and intuitive manner. Pre-built panels for the Longwatch video system allow operators to view Live images and hardware information.

Reducing energy usage is one of the easiest and most effective ways to reduce energy costs for any system.

Many districts are enrolled in energy and cost saving programs offered by energy utilities, such as the Time-Of-Use and Demand Response programs. Our TOU Calendar allows operators to select days, times and exclusions to operate your high-energy usage equipment at optimal times to further reduce your energy expenses.

Accurate measurement of field values is vital to maintain reliable operation of your system. Fully adjustable panels and displays provide operators with detailed running information of your system including water flow-rates, system pressures, equipment temperatures and more.

Presenting compiled and accurate information on your system state allows you and your operators to work more efficiently. Individual and combined reports allow you to view historical trending and run-time reports to help make informed decisions on usage forecasting and equipment maintenance.

Optionally, advanced reporting features can be presented to operators from nearly anywhere with our web-based reporting interface. Accessible from mobile devices such as laptops, tablets and smartphones. View current system status and historical data from anywhere.

You are here: SCADA & Telemetry > Human-Machine Interface (HMI)